Party Entertainment: Let your Imagination Run Wild
Great party entertainment should excite and engage your guests, adding sparkle to your event and enhancing the atmosphere. Music By Arrangement blend creative ideas with talent and energy to offer you the ultimate choice in party entertainment, whatever the theme or nature of your party. Our experts can help you explore creative party entertainment ideas that make your event unique to you and one your guests will never forget.
We lead the way when it comes to developing innovative party entertainment ideas. From dramatic stage performers to hilarious mix and mingle characters and convincing human statues, we can help you find the perfect, unique entertainer for your function or even create a bespoke act just for you.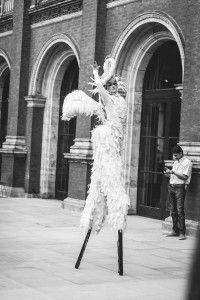 Mix and Mingle Acts
Comic characters, stilt walkers and silhouette cutters are just some examples of the mix and mingle acts on offer at Music By Arrangement.  Whether you're seeking something to engage guests as they enter, a toastmaster with a difference or a host with a twinkle in their eyes, look no further than one of our mix and mingle acts.
Interacting with guests, greeting them at the door and introducing a splash of humour into your celebrations, our professional mix and mingle acts produce undeniably fun party entertainment for any function.
Carried out by seasoned performers, these charismatic acts can be tailored to your event or theme, with costumes including everything from royal footmen to Victorian policemen on stilts.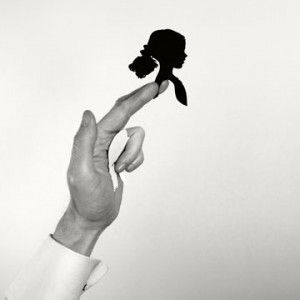 Shaping the World of Party Entertainment
For party entertainment with a twist, our incredible silhouette cutters and origamists offer a new take on classic favourites. Whilst our silhouette cutters can create an incredible likeness of your guests' shadows, our origamists can produce a myriad of paper shapes, all in mere moments. This is a great way to entertain guests and provide them with a special memento of your event.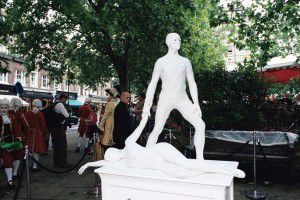 Human Statues
Subtle and elegant yet dramatic, human statues can evoke an inspiring sense of enchantment for any party.
Bestowing an imperceptible wink here and a knowing smile there, our incredibly authentic still living statues stand perfectly still for the duration of your function, appearing to form part of the scenery except for the occasional slight movement, keeping guests on their toes.
Whether you want an ice queen for your winter wedding or a colourful masquerade character, these human statues can take any form you want, imbuing your event with an enigmatic touch.
We also offer moving statues, comprised of experienced acrobats who perform mesmerising athletic displays whilst entirely painted as statues. They perform slow, fluid movements, creating a breathtaking spectacle in the midst of your event.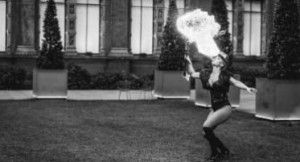 Magicians and Illusionists
For party entertainment that really pulls something supernatural out of the hat, Music By Arrangement offers a variety of exceptional magicians and illusionists.
Able to confound and entertain guests of all ages with inconceivable feats, each of our charismatic magicians and illusionists is eminently talented. Many of them are members of the prestigious Magic Circle as well as having performed on television's Sorcerer's Apprentice and we're constantly adding new acts to our portfolio.
Whether you want them to mix and mingle with your guests or perform a full-on stage show complete with volunteers from the audience, these acts can range from mystic and mysterious to comic cabaret.
To find out more about our party entertainment and entertainers or if you need help with exploring creative party entertainment ideas then call us on 020 8209 3430 or email us.