Undeniably dramatic, irresistibly fun and full of surprises, cabaret acts: the perfect highlight of any event, whether it be a wedding, birthday, anniversary or bar or bat mitzvah. Music By Arrangement has an extensive portfolio of cabaret acts in London and the UK, offering variety, originality and exceptional entertainment for any theme or occasion.
From charismatic swing groups to dance troupes with an enigmatic twist, our cabaret acts come in all forms and sizes; yet what they all have in common is an uncanny ability to entertain, dazzle and captivate audiences.
Flexible, reliable and professional, our established and polished cabaret acts deliver an awe-inspiring performance each and every time. Contact us for more information on our cabaret acts or to book an artist.
Musical Cabaret Acts
Fusing the art of musical performance with the magic of theatre and adding a touch of humour, our musical cabaret acts deliver unparalleled entertainment. Whether they play string instruments or sing, these artists use their talent to deliver captivating, enthralling shows packed with memorable moments.
Highly original and totally entertaining, our musical cabaret acts can engage guests with everything from comedy and drama to competitions, providing a focal point for everyone to enjoy.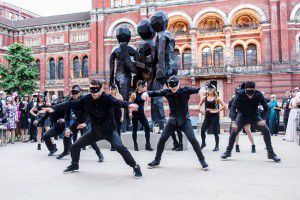 Dance Cabaret Acts
If you want to astound your guests and create a party atmosphere where anything can happen, our dance cabaret acts are just the thing.
Initially mingling with your guests disguised as waitresses, the manager or even as other guests, these incredible dancers create a sudden splash of surprise as they unexpectedly perform an expertly choreographed dance routine at a set point during your party. From street dancers and salsa senoritas to cancan troupes and Irish dance groups, we can create dazzling dance cabaret acts of any genre.
Want to find out more about our cabaret acts? Call us on 020 8209 3430 or email us.