Swing bands are an unbeatable way of imbuing your event with the charm and flair of the fifties. Music By Arrangement offer a selection of swing bands, comprised of some of the best musicians on the circuit.
In addition to representing established acts, we've applied our musical expertise to create new swing bands. The inimitable Hat Pack are an exclusive swing band by Music By Arrangement.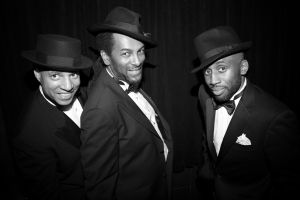 The Hat Pack: Taking the world of swing bands by storm
As swing bands go, it doesn't get more charismatic than The Hat Pack. Phenomenal vocals, magnetic chemistry and glittering humour are the core ingredients that make The Hat Pack what it is: charming, suave and unforgettable.
Whether they're performing fifties classics or modern hits, the Hat Pack delivers each song in an irresistible swing style. Fresh, inspirational and able to warm the spirit, the Hat Pack creates a unique and remarkable experience audiences will never forget.
Brought together by Music By Arrangement founder, Sarah Balfour, The Hat Pack represents the best of UK swing bands. Comprised of three exceptional entertainers: Roy Hamilton, Cuttie Williams and Kevin Leo, this extraordinary trio performs around the globe, singing everything from Rat Pack era classics to today's chart hits, all in their slick, swing style.
Having performed together for years, The Hat Pack members are completely attuned to one another, forming a strong musical unit brimming with undeniable charisma. The group also works with a fantastic band, led by world famous musical maestro, Pete Long.
As true showmen, The Hat Pack are able to generate an unstoppable buzz for any event. Their natural connection and pure talent shines through every single performance, creating a unique act that's guaranteed to dazzle and captivate.
Slick, smooth and sharp, The Hat Pack really is the king of swing.
For more information on The Hat Pack: an exclusive swing band by Music By Arrangement or to book one of our other swing bands, call us on 020 8209 3430 or email us.